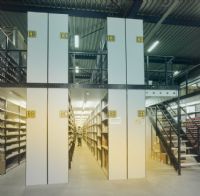 Production products equipment design and storage layouts
posted by:

Richard Haynes
When a new production facility or project is being planned there are always lots of items that require careful thought and attention. One that is often over looked is the storage equipment, this might seem like a last minute addition but could cost you tens of thousands of pounds in lost time alone.

Here at 2h storage we pride ourselves on offering a one stop solution, we can provide mezzanine floors for work, packaging, storage and production areas. We can give design and advice on the best type of shelving or warehouse racking to optimise your pick rates, storage volumes and efficiency. We provide a full range of associated products from complex conveyors systems through to simple plastic bins and boxes.

The advantage of using one key project co-ordinator is that small items like plastic boxes will be sourced to best suit the systems and procedures for your production project. You might need 3000 plastic bins but will they run correctly on your new conveyor? Will they stack or nest when not in use? You benefit because we solve these issues for our impressive and enviable client list every day.

Do you want to work with a professional company that has access to the best products at discounted rates? Take advantage of our volume buying power when you plan your new production project. We can advise and supply used equipment when suitable potentially saving you thousands of pounds.

If you need the best value engineering techniques and wish to impress your colleagues call 2h Storage today for a FREE consultation on 01765 640 160