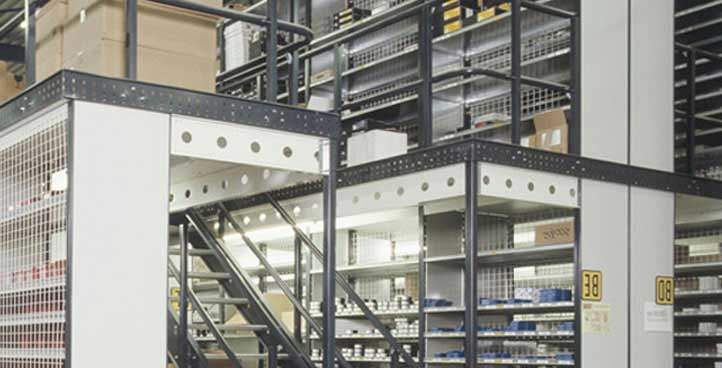 The benefits of mezzanine flooring
posted by:

Richard Haynes
When you are running a warehouse or office, you will want to be able to get the most out of it that you possibly can, because it is vital that you have the chance to improve productivity and increase profits at every opportunity. With this in mind, you may have thought about what mezzanine flooring could bring to your company. If this is indeed a consideration, then you might be interested in hearing about what some of the benefits of this type of flooring may be. We have put together a list for you, which will help you to decide whether it would be the right choice for you.
Give yourself some added space
In a world where you probably pay for your warehouse space per square metre of floor space, it is vital that you can make the most of every single metre that you are paying for. The majority of warehouses are quite tall, and this means that if you are just working on one level, you might be missing out on using a lot of the space. Instead of buying a bigger warehouse, you can just add space to the one you have by having a mezzanine floor put in. This will increase your space a lot, and will give you the chance to enjoy making the most of this space.
There is no need to move
If you don't feel as though the warehouse you are in at the moment is good enough for your needs, then you may consider moving. If this is true, then you will no doubt be dreading just how much it can take to move in this way, and therefore mezzanine flooring might be the answer. This gives you a much better chance of being able to shape your warehouse into exactly the kind of space that you need, and it is much better than having to move completely. This could save you a lot of effort, so it would be more than worth it.
An easy way to keep an eye on safety
There is a lot that has to be done within any kind of warehouse environment, and with this being the case you need to make sure that there is somewhere that you can go to oversee everything that is happening. Sometimes, sitting in a room with a selection of cameras is a good idea, but at other times it can be good to be able to sit higher, above everyone else who is working below you. A mezzanine floor can be a great option for you in this respect, as it gives you an excellent view of everything that is going on, and this should improve your safety a lot.
It is a cheaper option than many others
No matter what kind of business you might be involved in, one of the things that you will be thinking the most about is how you can cut back on the amount of money that you have to spend. This means that if you know that you need more space, you can avoid having to build costly extensions on your property, as a mezzanine floor is a much more affordable option for you.
No matter why you decide that having a mezzanine floor is the best choice for you, there is no doubt that there are a number of benefits. A mezzanine floor would really give you the chance to make the most of the warehouse space that you already have, and this is sure to mean positive things for your business in the future, so it should be a thing that you consider.